Performing with Balanchine & the New York City Ballet
Villella on Balanchine

The following is an excerpt from Villella's autobiography "Prodigal Son: Dancing for Balanchine in a World of Pain and Magic" by Edward Villella with Larry Kaplan, published by University of Pittsburgh Press. © Edward Villella 1992, Simon & Schuster.
I was always immensely proud to be a Balanchine dancer. It always seemed to me that dancing a Balanchine ballet was to step into the minds of great men, geniuses – Balanchine, Tchaikovsky, Brahms, Mendelssohn, and others. When I started up in Miami, I knew it was crucial to reflect on these minds, Balanchine's particularly.
In the New York City Ballet a dancer was constantly challenged to be the raw material for genius. I had always struggled to meet this test. No matter what I was given to do in Balanchine's company, I did it. I translated and articulated it according to my understanding, then gave it back, always remaining within Balanchine's guidelines. I left my impression on his works, made my own comment on them, and this gave me tremendous confidence. Learning to understand the complexities and nuances of the roles I danced, the Prodigal Son, Apollo, Oberon, the protagonists in Bugaku, Agon, Tchaikovsky Pas de Deux, Brahms-Schoenberg Quartet, Donizetti Variations, and "Rubies," developed me as an artist.
Balanchine dancers are a breed apart. They are not only highly accomplished technical wonders. They have a calling, and they are asked to participate in an almost sacred way of life. That was the Balanchine ideal. He wanted all of us to be a part of a religious order of which he was the leader. He was not a despot or a false god and it wasn't just a matter of authority or ego. Balanchine understood that he was the equivalent of a Mozart or a Shakespeare. But he understood that his genius had been conferred on him, he had been ordained by God. He used to say that only God was a creator. He preferred to think of himself as a craftsman and compared the art of choreography to the art of cooking, gardening, cabinetry. He had no great airs.
Balanchine was a deeply religious man – his spiritual life was important to him. And this was why, despite the times he was petty or perverse, he always forgave his dancers when they disappointed or offended him. Another man might have fired me unceremoniously or ignored me for refusing to attend his class or for failing to rehearse in the manner he requested.
I occasionally rattled the gates of Balanchine's world. I had been too much a part of real, practical life to cloister myself completely in the hermetic environment of ballet. But somehow I always returned. I realized that starting my own company, a company in which I put into practice what I had learned from Balanchine, was another return. This time I didn't return alone. My dancers understand what Balanchine is all about, and they dance the ballets in a way that I think would please him.
Balanchine ballets are unique – phenomenal. Sophisticated writers, critics, students, and highly educated balletomanes watch these ballets over and over and derive the greatest pleasure and intellectual stimulation from them. But a person can be completely uninitiated in the art of classical dance, attending the ballet for the first time and knowing nothing about it, and still be greatly entertained by them. Balanchine's ballets are built on the tradition of Marius Petipa, the great nineteenth-century choreographer and ballet master to the Imperial ballet in St. Petersburg. Balanchine adopted Petipa's style to the twentieth century and expanded it. His style was the next profound link in the evolution of the art form after Petipa, and in order for this evolution to continue as we prepare to enter the twenty-first century, we mustn't lose what Balanchine taught us. Yet at times this evolution seems stalled; worse, it's as if we've come back to the edge of the precipice, with two hands pressed to our backs about to push us into the abyss.
In many ways I think of ballet as an art form that's lost its conscience. Artistic directors are presently so concerned with financial considerations, fund-raising, recalcitrant, uninformed boards, and other problems that artistic vision often goes by the wayside. And in this environment dancers look out for themselves. They switch companies or dance where they can earn the most. This is not always best for the ballets they dance and the company they're part of. In such an atmosphere Balanchine ballets are an endangered species. Lincoln said that when Balanchine first came to America he remarked, "La danse, c'est une question morale." He meant that morality as much as talent is crucial to this art form; and in fact, it was in a profoundly moral and creative atmosphere that Balanchine choreographed his greatest ballets.
Ballet is a human art form – its passed on from body to body, mind to mind, and yet today the majority of the dancers in the New York City Ballet and nearly all the students at SAB never knew Balanchine personally and never worked with him. Many of those who did work with him are now retired or working in other cities or countries. Their knowledge would be invaluable if it could be tapped, but they are dispersed. There is no one to replace Balanchine. How could there be? Therefore, as I see it, it's up to those of us who were associated with him on a long-term basis, those who worked with him directly, day in and day out, to pass on to young dancers our intimate knowledge of him and his aesthetics. We who have had the privilege of that kind of experience owe a debt to this man (who was a great creator no matter how he protested) and a debt to the art form. If ballet is to flourish in the twenty-first century, Balanchine's aesthetics and his legacy must be kept alive so they can be absorbed and understood by future generations. Today choreographers are forced to create "breakthrough" ballets that reflect what is fashionable and faddish in the dance world. Classicism is under duress. There's a dearth of choreographers working in the classical tradition trying to extend it. We now have a New Wave, Next Wave, Make Your Own Tradition, Virtuosity Is a Dirty Word, and the "Me" Generation Who Know More Than a Genius. Are we now involved in an era of disposable art?
Balanchine ballets are now preserved on videotape. Ballet masters and their dancers watch tapes that were sometimes made six months before of ballets that were choreographed twenty, thirty, even forty years ago. But a recent video can't possibly do the job. No one knows for sure what's been omitted from the particular performance. Steps, even whole sequences, are invariably lost. Details and nuances are smudged or distorted. Ballet masters and dancers are working from a copy of a copy. It's as if a Rembrandt whose colors have faded because it's been left lying out in the sun for decades were suddenly hung up and exhibited as an authentic, unadulterated representation of the master's work.
This is often the feeling I get watching some Soviet superstars dance Balanchine. And I have also watched performances not only by regional companies but also by the New York City Ballet of works that had been made on me whose dimensions have flattened, whose colors have dulled, ballets that no longer represent Balanchine's mind. I'm always disturbed by the experience of watching such performances. Balanchine said his ballets were only alive when they were being danced, but are they really alive when they are danced by people who don't understand their inner meanings, when the subtleties are absent? Videotape and film, not to mention dance notation, can certainly help in mounting these great masterpieces, but they can't do the job alone. They can show us the structure of a ballet, the mechanics, its skeleton. They're aids to memory basically, and memory is the connecting link. But we need the essence, the heart, the pumping blood, the vital organs, the intelligence of the ballet, in order to know it. Intimate contact between people and minds is essential for the ballets to be presented in this living, breathing state. Some of these works no longer have mystery. Mystery is a reflection of the ballet's inner content. If it is absent, it is often because understanding is lacking.
For those of us who really got inside them, these ballets are like human beings. They are alive, they do breathe, and they posses a spirit, a soul, and an independent intelligence. A dancer can have an intimate rapport with these ballets. He can speak to them and they'll speak back. If a dancer treats them well, they'll treat him wonderfully well in return. It may sound corny, even ridiculous, but it's true. It's the nature of masterworks. I feel a profound debt to Balanchine's ballets. They are directly responsible for making me more of a dancer that I would ever have been without them. They are friends who guided me, developed me, and nourished me, and I feel a personal responsibility for them. They took care of me, now I am taking care of them. They are my friends, and they're in serious trouble. I feel that I have to intervene. I can't let these ballets become invalids.
When I first considered moving to Florida and starting the Miami City Ballet, an aspect of the plan that appealed to me was that I'd be nearer to my father, who was in his mid-eighties, and have the chance to see him more often. . In Florida, with the geographical distance between our homes reduced, I thought I'd be in a better position to keep an eye on him, and he was reaching that stage in life where he needed looking after. My father still lived in the Orange City house he and my mother had bought when they retired, and he was leading a quiet existence. Over the years he'd grown increasingly introspective. Most of the time he rarely spoke, so that when he did occasionally decide to open up and let me in on his feelings, the depth of his intelligence and his sensitivity still came as a surprise to me. Indeed, my father had opinions about almost everything in the world and could be somewhat ornery or overbearing when it came to expressing them. I saw myself in him occasionally.
For some time I had been concerned about him. He had succeeded in narrowing his social circle and his daily routine to the barest minimum. These limitations even extended into his physical activities and his diet. He didn't get any exercise at all, and he'd eat the same things every day, eggs, a mixture of yogurt and ice cream, and little else. He was also a chain smoker and drank gallons of coffee. He refused to break any of his habits no matter how much I protested. Every time I visited him in Orange City I tried to encourage him to be more outgoing because he was almost always alone. I also tried to hire a maid to cook and clean for him, but he wouldn't hear of it. As it was, he barely tolerated visits from the various neighbors I had asked to keep an eye on him.
Once I settled into Miami, however, I discovered to my surprise that it was almost as hard to visit my father on a regular basis from there as it had been when I lived in Manhattan. In New York, I used to hop on a plane at La Guardia, fly to Orlando, rent a car, drive to Orange City, and spend the weekend with him. But Orange City was a six-hour drive from Miami, and I soon found out that flying there from my new home was almost as time-consuming as from New York. And the visits were as frustrating as ever. My father seemed to be aging rapidly, and he looked distressingly unable to care for himself. Whereas he used to shave only once a week when he was younger, he now refused to shave at all and sported an enormous, scraggly beard. And no matter how I tried, I couldn't get him to vary his routine. I tried to engage him in what I was doing or in sports or in his neighbors, but it was hard to arouse his interest in anything. I repeatedly invited him to visit us in Miami for as long as he wanted to stay, but he was reluctant, although occasionally he'd come for a week or so. He adored his granddaughter Crista. She is a friendly child and she loved him. Seeing her was an incentive for him to make the trip.
One weekend when the Miami City Ballet was performing in Key West, I received an emergency call from Linda's mother, who had been staying with us. A neighbor of my father's from Orange City had telephoned to say that my father had had an accident, a fainting spell that might have been a minor stroke. He'd passed out on the kitchen floor and lain there for over an hour before he was able to summon this neighbor whom I'd asked to look after him. I asked the neighbor to telephone emergency services to take my father to the local hospital, but within an hour the man called back. The service refused to drive him without a thousand-dollar cash deposit. Because of his appearance the ambulance attendants mistook my father for a homeless man. They wanted some kind of security, but they wouldn't accept my credit card as payment. How could I raise a thousand dollars cash over the phone on a Saturday night? It was days before my father could get the proper treatment. I felt far away from him in Key West and after this incident resolved to convince him to move to Miami.
It wasn't easy, and it had to be accomplished in stages. I'd persuade him to visit for a week or two, and then after a while I arranged for him to give up the house in Orange City and move permanently into a kind of retirement complex on Biscayne Boulevard, a converted motel located twenty-five miles away from our house. Really like a country club, it was pleasant for the residents. Although my father seemed happy enough there, he refused to mingle with the others, preferring to remain by himself except for his meals. He seemed to become more and more cranky and completely antisocial as time went by, and on those occasions when he did venture into the communal dining room, he'd be so argumentative and obstreperous that eventually he was barred from entering it.
The situation was difficult and disturbing, and my father now suffered from severe memory lapses and often repeated himself. Sometimes his mind was lucid and he seemed alert and clearheaded, but other days it was as if he were in a fog. He was never quite sure why I was in Miami and seemed to be under the impression that I was running a school. He might have been suffering from the early stages of Alzheimer's disease or senility, but his condition was never properly diagnosed.
I visited my father regularly in the retirement home, and although he repeatedly refused to let anyone do anything for him, he allowed me to bathe and shave him on the days I came to visit. The first time I shaved him it took me almost an hour and a half to get rid of his beard. On every visit I would change his clothes and tidy his room, and as I worked, I felt our roles had become reversed. The child was now the parent. I was amazed by my father's compliant behavior. He had resisted letting me take care of him for so long, but now he gave in to it willingly. Certainly others at the residence would have performed these services for him, but I saw that he was grateful for – he expected – this attention from me. He never questioned it. It was part of our bond, our heritage.
My father died in September 1988 at the age of eighty-nine, and at his funeral I kissed his forehead just as some of the mourners had kissed Balanchine's forehead at his funeral service. While I was writing this book, I often thought about my father, about our relationship and about my love for him. I remembered all our old times together, happy and sad, and remembered in particular the day in 1953 when he drove me from Queens to the Maritime College in the Bronx. The drive was agony for me. Entering the school was, up to that point, the most painful and unhappy moment of my life, and I was suffering, but for my father it was without a doubt the proudest moment of his existence. His son was going to be the first member of the family to earn a college degree, and it gave him tremendous satisfaction.
At the time I couldn't empathize with him or understand what he was feeling. I was a kid, and the thing I wanted most was being taken away from me. But now, so many years later, I can understand what he was feeling that day. My experience as a father has helped me to understand him. For there is no doubt that one of the proudest moments in my life occurred last June when my son, Roddy, graduated from Union College in Schenectady, New York. Roddy is a dean's list student, a three-time New York State private-school wrestling champion, and a downhill skier – a healthy, Solid, gentle person.
Roddy's childhood wasn't easy. He lived through family conflicts and upheavals. He saw the worst of both his parents and he dealt with it. He survived and has already made a success of his young life. I basked in his success at his graduation and had to give Janet credit for turning out such a terrific kid. Janet's married now to a businessman, Terry Martin, and they were both at the graduation.
What made me especially happy about Roddy's day was that I participated in it as more than just a spectator. The school bestowed an honorary doctorate degree on me. I was being honored for my career as a dancer and artistic director, even as an advocate of Balanchine. But I was also being acknowledged as a loving father, a man who had accomplished something in life and reached a state of maturity. I was a very lucky man.
As I thought about my family at Roddy's graduation, different parts of my life became clear to me. The death of my father five years after the death of Balanchine brought everything full circle. My father and my artistic father are both gone, and by some miracle I am now in their place. I am the father now, not only to my son with whom I'm reunited, to my stepdaughter, Lauren, and my daughter, Crista; I am also the father for my extended family, which is the Miami City Ballet, whose dancers and staff members also sit at my table. This is more than a figure of speech. Like my grandfather and Balanchine, I love to entertain. Like them, I love to open the bottle of wine and pass it around to my guests and to my friends. It symbolizes to me that I am now the giver, the provider, the teacher, the man who sits at the head of the table. Like my grandfather, I am the padrone.
I often think about the reasons for my contentment now, and I understand that my life experience has prepared me for the role I play today. I sacrificed my first forty years to dancing. I had been devoted to my career. What I stopped dancing, I felt empty. I wanted more. Balanchine had made dancing the sum of his life, and I followed his example. But then I questioned the way he lived his private life. I realized that I no longer wanted to imitate him. I no longer needed to seek his approval. I wanted something for myself. I wanted to be more than just a dancer.
I know that much of my happiness springs from my relationship with Linda. She is the partner I will dance the rest of my life with. She's been crucial in my development as a mature man. Because of Linda's values, I'm able to understand what a real family is.
When Crista was still a toddler and I was looking around for suitable work, Linda traveled to Riverdale by subway to give ice-skating lessons. We needed the money to pay our bills, and she took Crista because she didn't want to hire a babysitter. (She has always helped me in my work; as I was learning how to become an artistic director, she was learning about everything.) To Linda, however, her role as a mother always comes first. She's always there for her children anytime they need her. And she has always supported me in the same way. I realize how much I owe her. She's my wife, but she's also my mentor.
As I dwell on my life with Linda, I often think of Balanchine. I miss my artistic father no less than I miss my flesh-and-blood father and feel a real debt of gratitude to him. It did not escape my notice that he did not bequeath his ballets to the New York City Ballet, to that impersonal monolith "the company," but rather to individuals who he knew would exercise their proprietary interests in these works. With constant changes in personnel, how is anyone to know what direction a company will take? I think Mr. B left his ballets to specific people, mostly to the ballerinas who inspired him and a few to Lincoln and Eddie Bigelow, because he knew that people take pride in ownership and will protect what is theirs.
Returning to Balanchine's theater to dance Watermill in 1990 was a very emotional experience for me, my final appearance with the New York City Ballet. Writing in the New York Times, Anna Kisselgoff said, "Watermill remains inseparable from Mr. Villella's overwhelmingly focused stage presence… it is the integrity of [his] performance that anchors the seriousness of the entire endeavor. Standing with his back to the audience at first, he commands the stage from the moment he looks over his shoulder; a thousand sorrows are written on his face."
Standing on that stage I understood that I spent most of my career on the outs with Mr. B. I had always wanted more from him personally than he was capable of giving. Once and for all, I saw that some of us got his love and some of us didn't.
Perhaps I was naïve to think that time can heal old wounds. I had seen that Balanchine liked to dominate the lives of his dancers and control things, and I had stood up to him. From his point of view that was inexcusable, and most of the time I was banished from his thoughts. Perhaps I hurt him, and he just couldn't forgive me.
But he never let his resentment interfere in our work. Even when we fought, he never denied me any artistic opportunity. It was as a dancer that he loved me and as a dancer that I received his priceless legacy. I was a boxer. I still know how to come back from a punch, stand on my feet, and deliver. Of course, Balanchine didn't leave me anything in the legal sense, but as a dancer his ballets belong to me. In my company, we treat these ballets as if they are ours, and that is how I continue to serve my artistic father.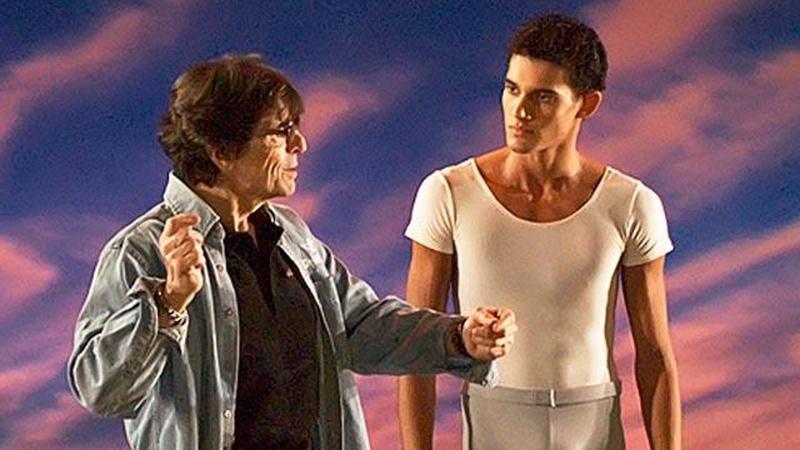 View videos and more photos about Edward Villella's artistic journey.